Brighton, UK:  Here's part 1 (of2) of our latest trip across the pond!  We had the most amazing and unforgettable time with everyone at L8.  We made new friends, laughed, ate beans and toast every night, danced our faces off, and explored the city. A special thanks to Sean and Jo with Starfury Events for making it happen….and of course, our lovely friends on the L Word and Lip Service.  (Kate French, Clementine Ford, Erin Daniels, Lauren Lee Smith, Laurel Holloman, Janina Gavankar, Heather Peace)
Things we learned in BRIGHTON, England:
1.  Don't eat a dodgy cheeseburger from a chicken joint…..you'll get food poisoning.  (Tracy)
2.  You can gamble and play video games in the same place!  (on the Brighton Pier)
3.  Even though it's cold and rainy some nights, girls go out wearing close to nothing. More power to them!
4.  Heather Peace from LIP SERVICE can really, really sing!
5.  Kate French and Clementine Ford both know how to chug Guiness like pros!  I won't tell you who won this round!
6.  Loving the style in the UK!  (Learned of the brand SUPER DRY from Japan.)
7.  "Bits, Chips, Chebs, Wanker…" Only a few of the new words in our vocabulary!
8.  The attendees from L8 really know how to have a good time!
Up next, pics from our Amsterdam leg of the trip!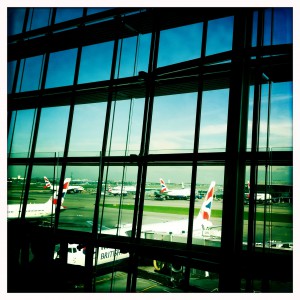 18 Responses to "Brighton, UK"