Get the Podcast HERE on Itunes.
If you can't download through Itunes then click HERE
Continuing our journey with Season 3 of The Real L Word. Listen to what Tracy Ryerson, Stamie Karakasidis and resident straight guy Murray Valeriano have to say about the show and so much more!  We talk about Hunter Valentine hitting the road, Whitney's proposal to Sara, Romi's new identity as a bi-sexual, Amanda moving to LA from NYC to be with her BFF Lauren and so much more. Oh wait, what happened to Cori and Kacey this episode??! … Oh, life after editing!
Also, we asked Murray and Tracy who they would make out with…..Get ready for this surprise!
Please leave your comments and reviews on Itunes. Gracy Ass.
Listen to the podcast HERE!
OH and if you missed our re-cap of Episode one. Click HERE!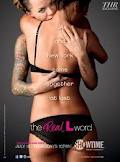 Follow us on twitter:
@TracyRyerson @StamieLa @MurrayV
If you want to watch some videos. Check out our youtube Channel
2 Responses to "THE REAL L WORD Re-cap, Season 3 Episode 2"