Our Fifteen Minutes podcast has returned and with special guests Somer Bingham and her lovely wife Donna Rizham from The Real L Word, Season 3.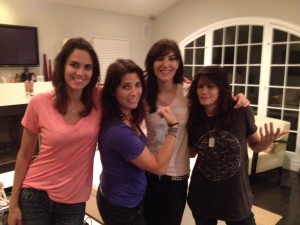 Click HERE for podcast
For Itunes download Click HERE
See what their thoughts are about being on a reality show, how it all happened, "Hunter Valentine" break up, her own band "Clinical Trials", being lesbian newlyweds, what Donna is ready to create and what is in store for the near future.
As always, Tracy, Stamie and Murray appreciate all of your support. We hope you enjoy.
PS. Stamie and Murray will be performing at the Hollywood Improv on Sept. 27, 2012 at 8pm.
Special shout out to our US Troops who are listening!!!
If you want to check out some more Somer and Donna:
Twitter: @somerbingham
Twitter: @mamariz1
Her Band: www.ClinicalTrialMusic.com
Watch Somer Fridays her Webisodes for Showtime, where she interviews cast members, Including Tracy (filming week of September 17, 2012)