Our train wreck is back and we don't mean TRLW.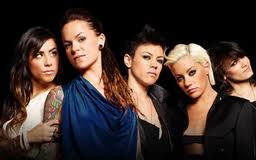 Click HERE to listen through iTunes
Click HERE to listen to post
REMEMBER TO SHARE WITH FRIENDS, COMMENT, REVIEW OR DO NOTHING:)
(We all are giving our time and energy to entertain you clowns)
Continuing our journey with Season 3 of The Real L Word. Listen to what Tracy Ryerson, Stamie Karakasidis and resident straight guy Murray Valeriano have to say about so much, including Hunter Valentine on the road and Kiyomi not enjoying the "Somer", Whitney's engagement news and how her mom reacts, Romi's new identity as a bi-sexual, Amanda and Lauren finally have a chance to be together, Whitney's propositioned indirectly for a threesome, Kacey and Cori's heartbreak, Alyssa's voice of reason, and a few other interesting thoughts from the crew.
We did do a live broadcast on Ustream for this podcast but seems we didn't save,(first time and we dove in head first) but don't worry- we will be live with Romi on Wednesday night!!! Stay tuned for details.
We do this because it's fun and for you guys, so if you can share and get the word out to as much as you can, please help keep this going.
 Follow us on twitter:
@TracyRyerson @StamieLa @MurrayV
If you want to watch some very funny videos. Check out our youtube Channel
One Response to "Podcast Re-Cap of Real L Word Ep 3! It's here!!!"