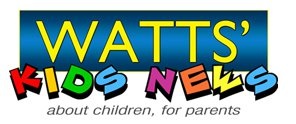 Friends, thought it was about time that I begin sharing the fun my gang has been having with making these short little videos with Watts Kids.com. Of course I would like to thank Tracy and my kids, sometimes they are all letting it all hang out and they truly have no idea I would be posting what I filmed– but I do!!
My friend Dr. Watts saw my wonderful parenting skills and asked me if I would like to share that wisdom with her patients. Clearly, there is some truth to that but really they are meant to make you laugh and hopefully learn something. I am pretty sure they will make you smile, but not so sure about learning anything. I am cool with that.
Parents, god parents, siblings, aunts, uncles,  nannys, grand parents check out WattsKidsnews.com and join the growing community. Knowledge is power.
Adjusting to life with children takes years in my opinion so have some fun while you are raising them.
Click link below and check it out.
https://www.facebook.com/#!/photo.php?v=2299534765094