Monday Monday…ah..ahh..ah …ah..Isn't that a song?
Dropped the twin nuggets off to school and left them enjoying playdoh while I headed out for my delicious Peete's coffee soy cappucino and dropped my fav jeans to be patched. You probably know these jeans, I lived in them during the filming.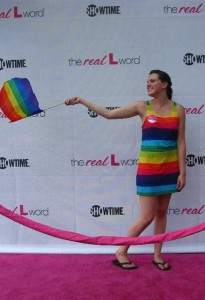 Last night was the finale at a club called Falcon in Los Angeles. Girls were beautiful, they do exist. Lots of people told us they enjoyed the show which was nice to hear. We also got to hang with the girls Whitney, Rose, Nat, Ilene, My girl, Romi, Sara and all other women that Whitney has touched on camera. Tor does not live in L.A. so she was not around. No word on season two of The Real L Word so we have not idea. Let's see if it was meant to be.
Well, Tracy and I are working on making this site a place to visit often, so we would love to hear any thoughts you may have.
Blessings.
4 Responses to "Monday Baby!!!"